Greetings, one and all. I haven't been posting lately, and for that I apologize, but then again, I haven't been doing anything hobby related, either. But enough about me.
Recently,
Oni
introduced me to
Zuzzy Miniatures
Terra-Flex (tm) Flexible Terrain System mats. The full name's quite a mouthful, so I just call them "Zuzzy mats." My gaming group plays in the back of our local
HobbyTown USA
, and over the year or so we've been gaming there, we've accumulated a lot of... well, crap. In an effort to minimize the space we use (for free, mad props to the owner), we've been selling off our bulky GW Realm of Battle boards and getting rid of most of our excess terrain.
The latex rubber Zuzzy mats don't take up much room when rolled up, so we decided to try them out. Zuzzy offers multiple sizes of their mats, all the way up to 4'x6'. They also offer a 3"x6" sample size for 1.50$, with free shipping. Pictured below is my work on a sample size mat, along with my process of working on it and my thoughts.

A 3"x6" sample-sized Zuzzy mat
I ordered the "
Broken Blacktop
" texture, figuring I could just paint it differently and get a nice-looking desert mat. Like just about everything else in the hobby, the mats come unpainted (you can order them pre-painted, but where's the fun in that?). The full sized mats come rolled, almost like wrapping paper. The texture is great; I didn't notice any little bits flaking off, which speaks volumes about the quality. The mats are a bit on thin side, but they're pretty strong. Latex rubber has a tendency to warp a bit if left draped or bent, so I think it's best to keep it flat or loosely rolled.

Zuzzy mat primed with Army Painter's Skeleton Bone colored primer
Have I mentioned I love Army Painter's colored spray primers? If not, I'll say it now. I love Army Painter's colored spray primers. I think they're one of the greatest things to ever happen to the hobby. I gave the mat a solid coat of Skeleton Bone primer, and let it dry. The mat took the paint very well, which is surprising, considering the thing is rubber.

A fully painted battle mat
After laying down the primer and letting it dry, I washed the mat with some watered-down Gryphonne sepia Citadel wash. This added a bit of depth and color variation to the mat. After letting that dry throughly, I drybrushed on a bit of GW's bleached bone to make the texture really pop. To finish up, I sprayed the mat with some of Testor's Dull Cote matte varnish.
Doing a 4'x6' mat is going to be a real chore with the above-mentioned technique. For that particular project, I may invest in an inexpensive airbrush and some Army Painter
Quickshade
.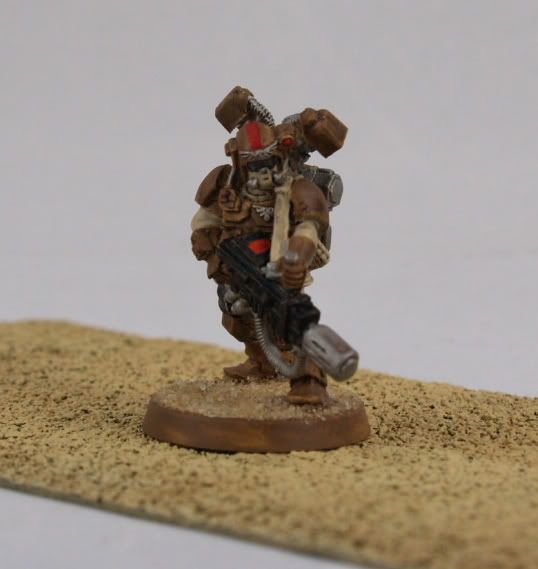 Completed mat with a model on it
After the whole thing dried, the acrylic paint sounded like it was cracking just a bit, but there wasn't any visible damage. Once you "exercise" the mat by bending and rolling it (carefully!), you've got yourself a completed mat. I wouldn't recommended trying to stretch it. I haven't tried that yet, but I imagine this would crack the paint and cause it to flake off. The mat can be stored by rolling, and is only a bit bigger than a collapsed umbrella. My club is planning on using postage tubes or something similar.
Overall, I am very impressed with this product. If the full mats are anything like the sample, then Zuzzy has got themselves a customer in me.
As always, happy hobbying,
-Jordan