At the suggestion of
Admiral Drax
, I've posted my 2,000 points list for my Elysian army, along with how the army is designed to work and personal commentary. Enjoy!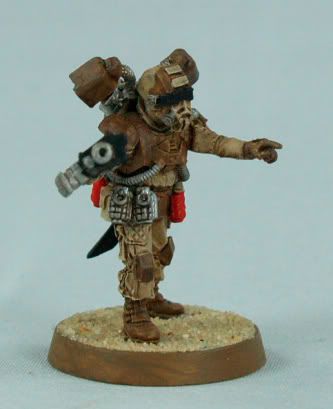 Alpha Company Captain
"Archangel"
I've always been a huge fan of doing things the way they "should" be done. Horde Death Korps, foot-slogging Death Guard, 36" tall Warlord Titan; you get the idea. When I saw the table of organization and equipment for the Elysian 23rd regiment in the back of Imperial Armour 3, I thought to myself "now that would make a great army!" The list is designed to represent that TO&E in addition to being a competitive and reasonably well-balanced force on the table top.
HQ
In total, the list actually adds up to 1999 points.
Starting with the requisite HQ choice, I took a Company Command Squad for just that reason: I had to. Thanks to Robin Cruddace, HQ options for the Imperial Guard are more useful and less of a point-sink as they were in editions past. The ability to issue orders is nice, but with how scattered about a drop troops list gets, that perk usually just ends up going to waste. When I roll for reserves second turn, my HQ is always the first thing I put down (mostly because commanders having their boots on the ground first is super fluffy) and roll scatter for. I stick him right next to a big enemy vehicle like a Land Raider or expensive Russ variant, order his squad to "Bring it Down!" and roll up the lone melta shot to which I have access. Usually, my Captain blows something up, but doesn't ever see the end of a battle...Sorry, Sir!
Troops are something I love. To be honest, I don't feel comfortable with fewer than 100 infantry models on the table. This is the reason I have three infantry platoons, which means a whopping 15 scoring units. Not only do they give me a lot of strength to spread around the table, each squad is equipped to do maximum damage. In every squad, there's a demo charge (Str8 AP2, Assault 1, 5" Blast, One Shot) and a special weapon, either a melta gun or plasma gun to crack open armor and transports. Additionally, Sergeants have under-slung krak grenade launchers and melta bombs. If I could stick more special weapons and a demo charge in the platoon command squad, believe you me, I would.
What I like to do with the infantry platoons, if I can, is to drop in 2 platoons as early in the game as my reserve rolling will allow to break open enemy transports and armor and make way for the Vulture Gunships to eliminate the infantry. I like to hold the third platoon in reserves as late as I can. This lets me bring in 45 extra bases into the battle after most of the hard fighting is done in order to claim or contest as many objectives as I can, last minute.
The Vulture Gunship is just about the only worthwhile heavy support choice in Imperial Armor 8's Elysian drop troops 'dex. Everything else is either silly (in the case of a squad of tarantula sentry guns) or plainly illegal for regular games of 40k (the Imperial Navy support options come to mind). I chose to arm them with twin-linked punisher cannons. 20 shots, re-rolling misses makes for a lot of hurtin' on just about any opponent that isn't above T5 and helps mitigate my sometimes awful luck when it comes time to roll the dice. 24" range is a bit rough, but the ability to deep strike makes up for that minor shortcoming. The flare/chaff launchers let me make my opponent re-roll "immobilized" results on the damage table, which is useful, if only because I don't have anywhere else to spend 30 points productively.
Ideally, the vultures come in late game. Having 2 or sometimes 3 death-spitting gun platforms showing up just about wherever I want them makes for a hell of a time for my opponent. Their main purpose is to hang back and rip enemy infantry to shreds. In the case of MEQ, it forces marine boys of all stripes to take a bunch of armor saves. The punisher cannons are also pretty useful for hitting armor 10 (armor 11, too, if you're feeling really lucky), if they don't have anything better to shoot at.
I built a list specifically to beat a Tyranid player (a very good friend of mine) that features vultures with twin-linked rocket launchers and hunter killer missiles. Certainly useful for ignoring the big bug's armor save of 3+. I haven't had the chance to play him yet, but the variant list throws the deep striking tactics for a loop. As they say, "adjust fire and move on, hooah."
This army is definitely fun to play. It makes for a very unpredictable game. With demo charges in every squad, my list has become the bane of MEQ players where I play. Hordes, I have some trouble with and the only other IG player at my club has beaten me soundly every time we've played (although I'm pretty sure his chimeras are blessed by the devil).
The list is definitely a strong one. I find that my biggest weakness is the dice rolling, especially the scatter dice. That tiny little cube is the linchpin of my entire strategy and army mechanic. If that bugger ends up mad at me for the day, there's nothing I can do about it but try not to cry too much as I take it up my fourth point of contact. More than one of my matches has been foiled by some lousy scattering throughout the entire game, putting me less than an inch out of range for a great melta shot or demo charge toss. Let's also remember the fallen troops who have been made victims of their own demo charge scattering back onto them.
On the whole, I really love my army. I love the way it operates, and even when I loose, I usually give my opponent a game to remember. This army is definitely for players who like taking risks and living on the edge. After all, if you're not living on the edge, you're taking up too much room!
Anyway, I hope you enjoyed reading my tirade about my army.
Until next time,
Jordan